Volunteers are the lifeblood of many nonprofits. They provide the extra manpower needed to pull off large events, like galas and concerts. They stuff envelopes, make phone calls, and generally do whatever needs to be done to help the organization function. In short, volunteers are essential to the success of most nonprofits. Here are seven tips to help you recruit volunteers for your next donor event.
1. Start with your existing database.
Before you can start recruiting volunteers, you need to know what roles you need them to play. What tasks need to be completed? How many people do you need in each role? Answering these questions will give you a good starting point for your recruitment efforts.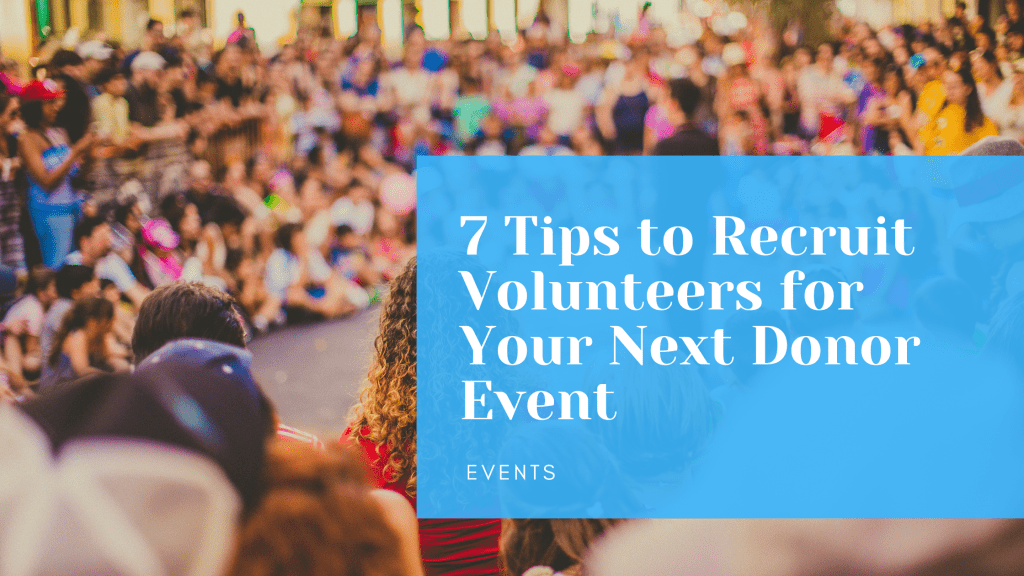 The first step is to identify your target audience—who are you trying to reach? This will help you determine where to look for potential volunteers, what kind of messaging will resonate, and what types of incentives may be most appealing. Keep in mind that your current database can also be a great recruiting tool; you can find volunteers or ask them to spread the word among their networks!
One of the best places to start recruiting volunteers for your major donor event is within your existing community of supporters. Whether it's through an email blast, social media post, or personal phone call, reach out to your donors and let them know that you're looking for volunteers for your upcoming event. Not only will this help ensure that you have enough volunteers, but it will also help build a sense of ownership and buy-in for your event among your supporters.
When recruiting volunteers, it's important to consider who your target audience is. Are you looking for college students? Retirees? Working professionals? Knowing who you want to reach will help you determine where to look for volunteers.
2. Make it easy for people to sign up.
The easier you make it for people to sign up as volunteers, the more likely they are to actually do it. So streamline the process as much as possible: create an online sign-up form that only requires basic information from potential volunteers, set up automatic confirmation emails, etc. The less effort people have to put into signing up, the more likely they'll be willing lend their time and energy to your cause.
Hosting an informational meeting is a great way to generate interest in your upcoming event among potential volunteers. Include information about the event itself as well as what roles will be needed and what tasks need to be completed. This is also a good opportunity to answer any questions potential volunteers might have.
3. Provide a clear and compelling reason why people should volunteer.
When recruiting volunteers, it's important to make sure your pitch is clear and compelling—after all, you're asking someone to give up their valuable time! Be sure to explain why their participation is needed and how it will make a difference, and consider sharing stories or testimonials from previous events to illustrate the impact they can have.
Many people are more likely to volunteer if they receive some sort of incentive in return. This could be anything from free food or drinks at the event itself to T-shirts or other branded merchandise. Offering incentives is a great way to increase participation among potential volunteers.
Make sure potential volunteers know what's in it for them. In addition to the feel-good factor of lending a helping hand, be sure to promote any other incentives you may be offering, such as free tickets to the event or exclusive access to VIP areas. Knowing that they will be compensated for their time and effort will make it more likely that someone will say yes when asked to volunteer.
4. Offer a variety of ways for people to get involved.
Not everyone is interested in or available for the same type of volunteering commitment—and that's okay! When recruiting volunteers, try to offer a variety of opportunities so that there's something for everyone. For example, you might need help with event planning and execution leading up to the big day, greeting guests and serving refreshments at the event itself, or even promoting the event through social media or word-of-mouth marketing afterwards.
There are a multitude of different platforms where you can post volunteer opportunities, so it's important to choose the ones that will best reach your target audience—think about where they spend their time online, and consider using social media, online forums, or even traditional print advertisements.
5. Promote the event through social media and other channels.
Social media is a great way to reach a large number of potential volunteers quickly and easily. Create a post about your upcoming event and what you're looking for in volunteers. Be sure to include all the relevant details, such as date, time, location, and what tasks need to be completed.
Many college students are looking for opportunities to get involved in their community and gain experience in their field of interest. Contacting campus organizations or posting notices in student centers are great ways to reach potential volunteers who may be interested in helping out with your event. Be sure to include information about how the experience will benefit them so they can see the value in giving up their time.
A well-designed flyer is an effective way to grab attention and disseminate information about your event. Include all the relevant details (as well as any perks or benefits volunteers may receive) in an easy-to-read format so potential recruits can quickly see what's involved and decide whether it's something they'd like to do. Once you've designed your flyer, post it in high-traffic areas around town or distribute it through local businesses or community organizations.
Sometimes, nothing beats a personal touch when recruiting volunteers. Sending out mass emails can be effective, but if you really want to make an impact, consider sending personalized emails or making phone calls to individuals who might be interested in volunteering. This approach takes more time, but it shows potential volunteers that you value them as individuals and makes them more likely to say yes when you ask them to participate.
6. Give people the opportunity to share their skills and talents.
Take a moment to consider what roles you need them to fill. Do you need help with set-up, registration, or clean-up? Do you need someone to manage the food and drinks? By identifying the specific roles you need volunteers to fill, you'll be able to target your recruitment efforts more effectively.
Once you've identified the specific roles you need volunteers to fill, create a job description for each role. This will help potential volunteers understand what their responsibilities would be and whether they're qualified for the position.
Not everyone is cut out for the same type of work, so make sure you delegate tasks accordingly based on each person's skillset and interests. That way, everyone will be able to contribute in a meaningful way and enjoy the experience overall.
7. Ask for help from existing volunteers.
Your existing pool of volunteers is a great resource for recruiting new volunteers. Ask them to spread the word about your upcoming event and help recruit their friends, family members, and colleagues.
These seven tips will help you recruit the volunteers you need to make your next donor event a success! And remember, always show your appreciation for your volunteers – they are essential to your organization's success!