Corporations are an important piece of the puzzle when it comes to funding your organization. They have the potential to provide a large amount of funds through corporate giving programs. Here are six steps you can take to grow your corporate donations.
1. Do Your Research
Research potential corporate donors before you start reaching out and asking for donations. Look for businesses that have supported causes similar to yours in the past and try to find out how much they typically donate. Additionally, research what type of donation each company prefers to make (e.g., monetary, in-kind, employee matching gifts, etc.), as this will come in handy later when you're asking for specific donations.
Tip #1: Define your nonprofit's mission and goals.
Before you start reaching out to corporations, it's important that you have a clear understanding of your nonprofit's mission and goals. What problem are you trying to solve? What population do you serve? Answering these questions will help you determine which companies are the best fit for your cause.
Tip #2: Research potential corporate donors.
Once you have a handle on your nonprofit's mission and goals, you can start researching potential corporate donors. Try using online search tools like Google and LinkedIn, as well as databases like Guidestar and Foundation Center, to find companies that align with your mission. You can also attend local business events or set up meetings with chamber of commerce representatives to learn more about businesses in your community.
Tip #3: Determine each company's giving priorities.
Not all companies are interested in supporting every type of nonprofit. That's why it's important to research each potential donor's giving priorities before reaching out. Most companies have this information readily available on their websites, but you can also contact the company's philanthropy or community relations department directly to learn more.
Tip #4: Develop a list of targeted corporations.
Once you've determined which companies align with your nonprofit and what their giving priorities are, it's time to develop a list of targeted corporations. This list should include the names of the companies, their contact information, and any relevant decision-makers within the organization.
To learn more about each company on your list, visit their website and familiarize yourself with their products, services, and history. You should also try to find news articles or reports that mention the company's philanthropic work. This will give you a good sense of what kinds of causes they're interested in supporting.
2. Build Relationships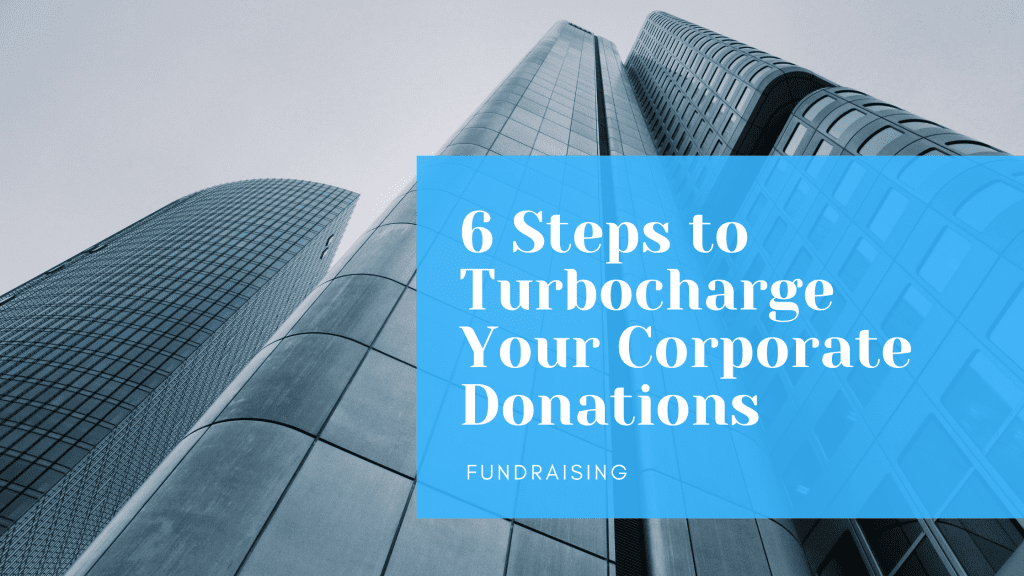 Key decision-makers at potential corporate donors, such as the head of the philanthropy department or the CEO. These are the people who will ultimately decide whether or not your organization receives a donation from their company. Attend networking events, set up one-on-one meetings, or even invite them out for coffee so you can get to know them better and explain why your cause is important. Once you've established a relationship with these individuals, it will be much easier to ask—and receive—donations from their company.
3. Make a Compelling Case for Support
Ask for corporate donations by making a compelling case for why their company should give to your cause. When crafting your request, be sure to include information on how their donation will make an impact, how their company will be recognized for its generosity, and what sorts of donations you're looking for (monetary, in-kind goods/services, etc.). If you can show potential donors how their contribution will make a difference and help further your mission, they're much more likely to write a check.
4. Give Them Recognition
Make sure you publicly recognize and thank companies that donate money or goods/services to your organization—whether it's through social media shoutouts, press releases, blog posts, event programs, or on-site signage at your facility/office. The more recognition you can provide donors, the more likely they'll beto give again in the future and potentially increase their donation amount.
5. Keep Them Informed
After receiving a corporate donation from a business, send them periodic updates on how their money/goods are being used and what impact it's having. This not only shows that you're grateful for their support but also helps foster a continued relationship between your organization and the donor company. These updates will also come in handy next time you need to ask for another donation as you can easily remind them of their previous contributions and show how much of an impact they've made.
6. Get Involved with the Company's Employee Engagement Programs
Many corporations offer employee engagement programs that allow employees to donate money directly from their paychecks to the charity of their choice. Some companies will even match employee donations dollar-for-dollar! If you're not already registered with these programs, reach out to the corporation's HR department and ask them how you can get involved.
Asking for corporate donations can seem daunting, but following these simple steps can help you get started on the right foot. Building relationships with key decision-makers is essential for success and don't forget to follow up after they've made a decision! Corporate giving is an important source of funding for many organizations, so it's worth putting in the extra effort to grow your corporate donations.