Are you a major donor fundraiser? Congratulations! You've just joined one of the most important and impactful fundraising teams out there. Major donors have the potential to transform your organization and help you achieve your mission in a big way.
But with great power comes great responsibility. As a major donor fundraiser, it's your job to cultivate relationships with these high-level donors and ensure that they are engaged and invested in your cause. So how can you set yourself up for success? Here are 8 things every new major donor fundraiser should do:
0. Build a Strong Foundation
If you've never worked in fundraising, you have some upfront education to do. The first step to becoming a successful major gifts officer is to build a strong foundation. This means having a good understanding of the basics, such as what a major donor is, the difference between annual and major gifts, and how to cultivate and solicit gifts. You should also have a solid understanding of your organization's mission, vision, and values. This foundation will give you the skills and knowledge you need to successfully engage with potential donors.
1. Understand the Organization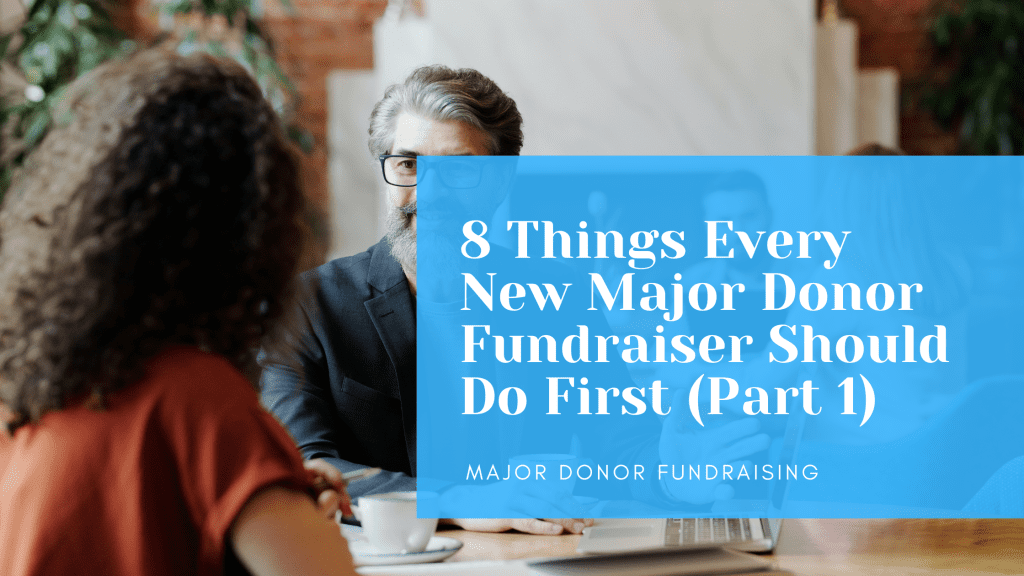 Your nonprofit's story is the most important tool you have in securing major gifts. Make sure you understand your organization's mission, vision, and values inside and out. Be able to articulate why your work is important and how it improves the lives of those you serve. When you understand your organization deeply, it will be easier for you to share your story with potential donors and engage them in your work.
After you have a solid grasp on the organization's mission, take some time to learn about its programs. What does it do on a day-to-day basis? How does it go about achieving its mission? What kind of impact does it have on its constituents? What are the programs that receive the most funding? What are the success stories that inspire donors? These are all important questions to answer when crafting your fundraising pitch.
Next, you need to understand how your organization is structured and how it makes decisions. Who are the key decision-makers? How are decisions made? What is the chain of command? Answering these questions will help you navigate the organizational landscape and make sure that you're raising money in alignment with the organization's goals.
Finally, you need to understand the organization's finances. How is it funded? How much money does it need to raise each year? What are its biggest expenses? When donors give money to a nonprofit, they want to know that their money is going to good use. A thorough understanding of the organization's finances will help you reassure them that their donations will be put to good use.
2. Meet with Key Leaders
One of the most important things you can do as a new major donor fundraiser is to take the time to get to know your nonprofit's key leaders. Who are the people who make decisions about where the organization goes and how it gets there? These are the people you need to get to know if you're going to be successful in raising major gifts. Schedule regular meetings with them, get their input on your plans, and keep them updated on your progress.
To be a successful major gifts office, you should build a strong relationship with your executive director or CEO. As the face of your organization, your executive director or CEO is one of your most important allies in major donor fundraising. Be sure to develop a good relationship with them so that you can effectively tell potential donors about your organization's work. They should be able to provide you with key talking points about your organization's impact, as well as share their own personal stories about why they're passionate about the work you're doing.
3. Learn Good Relationship Building Techniques
One of the most important things you can do as a fundraiser is to learn how to build strong relationships with your donors. After all, donation isn't just about money—it's about relationships. And the stronger your relationships with your donors, the more likely they are to give (and give more).
There are a few key things you can do to build strong relationships with your donors. First, make sure you're staying in touch with them regularly. That means sending them updates on how their gifts are being used, inviting them to special events, and keeping them informed about your organization's work. Second, get to know them on a personal level—find out what their interests are and what they care about outside of philanthropy. And finally, make sure you're saying thank you often and showing your appreciation for their support.
In today's digital world, it's easy to get caught up in emails and social media interactions. But when it comes to major donor fundraising, nothing is more important than getting face-to-face with your prospects. Whether it's coffee or lunch meetings, attending events together, or taking them on site visits, these in-person interactions will help you build relationships and eventually secure major gifts.
While it's important to learn how to ask your donors for money, it's also important to remember that solicitation is only one part of the major donor equation. In order for your solicitation efforts to be successful, you need to lay the groundwork by building strong relationships and demonstrating your organization's impact. So don't forget that relationship-building and stewardship are just as important as solicitation when it comes to working with major donors!
4. Learn Your CRM
A CRM, or customer relationship management system, is a necessity for any fundraiser, regardless of whether they're working with major donors or not. A good CRM will help you keep track of your prospects, manage your interactions with them, and cultivate relationships over time. If you're new to fundraising, it's important that you take the time to learn your nonprofit's CRM inside and out. This will ensure that you're able to make the most of the tool and use it effectively to fundraise successfully.
When it comes to donor data, more is almost always better. In addition to the basics like name, address, and contact information, be sure to include details like giving history, amount donated, type of gift, dates of contact, and notes about interactions. The more information you have in the system, the easier it will be to track your relationships and solicitations.
5. Talk with Donors
As you start your new job as a fundraiser, it's vital to talk with donors to discover their passions and what motivates them to support your charity. What you'll find is some common concepts and language will surface, helping you to have conversations with other donors and speak in a way that resonates with them.
Every donor is different, which means that there's no one-size-fits-all approach to raising major gifts. It's important that you take the time to understand what motivates each of your donors so that you can tailor your asks accordingly. What are their philanthropic goals? What issues are they passionate about? What do they hope to accomplish by giving? The answers to these questions will help you make an ask that resonates with each donor.
6. It's About Relationships!
A successful fundraising relationship is built on trust and mutual respect. Take the time to get to know your donors on a personal level. What are their hobbies? What are their interests outside of philanthropy? The more you know about your donor, the easier it will be to build a strong relationship with them.
Spend time learning about your major donors' interests, hobbies, and goals. What motivates them? What drives them? The better you know your donors, the better able you will be to tailor your asks to their specific needs and interests. The best way to build relationships is by staying in touch and cultivating meaningful interactions. Send them updates on the work you're doing, invite them to events, and thank them often for their support.
7. Find a Good Fundraising Mentor
One of the best things you can do as a new major donor fundraiser is to find a great mentor. A mentor can provide guidance, wisdom, and support as you navigate this important role. They can also introduce you to other key players in the field and help expand your network. Ask around or reach out to your professional organizations for recommendations on who would make a good mentor for you.
You don't have to go through this journey alone; there are plenty of people who have been in your shoes before and who can offer guidance and support along the way. Asking for feedback from your development colleagues – whether it's about a particular donor or about fundraising in general – is a great way to get new ideas and perspectives that can help you in your work.
8. See the Work
One of the best ways to do this is to visit the nonprofit's work and meet the beneficiaries firsthand. This experience will not only give you a deeper understanding of the organization's impact, but it will also help you communicate that impact more effectively to donors.
The first reason why visiting the nonprofit's work and meeting the beneficiaries is so important is that it helps you understand the organization's impact on a personal level. When you see firsthand the difference that your nonprofit is making in people's lives, it is much easier to convey that impact to potential donors.
The second reason why visiting is so important is that it helps build relationships with the people who are directly involved with the organization. When donors see that you have a personal connection to the people you are trying to help, they will be more likely to trust you and want to support your efforts.
Finally, visiting also allows you to see first-hand how their donations are being used. This transparency is crucial in building trust between you and the donor. When they know that their money is going directly towards supporting the organization's work, they will be more likely to want to continue supporting your efforts in the future.
Your donors will want to see that their money is being used wisely, so it's important to have a portfolio of projects that they can choose from. Keep your projects well-organized and provide clear information on how the funds will be used. This will show your donors that you're thoughtful about how their money is being invested.
Being a fundraiser is a noble and important job—one that comes with considerable responsibility. By taking the time to get to know your organization and its mission, learn relationship building techniques, see your work, find a good mentor, you'll be off to a great start in achieving success in your new role.
This is part one in a two-part series on things new major donor fundraisers should do. Read part 2 to explore more tips for starting out your fundraising career right!